Beruru
LIFESTYLE / RETAIL
Brand Identity
+

Signage

+

Spaces

+

Brand Identity and positioning for Beruru - an outdoor lifestyle brand that is bringing the natural world back into urban living.
Design: Aparna Ranjan, Sagarika Bhatia  Writing: Pooja Agarwala
Photography: Shalini Siva Prasad
Client: The Purple Turtles Lighting Ideas Pvt Ltd
A brand that reimagines the garden as the heart of the home, inspiring slow, joyful urban living. Elevated by a beautiful typeface that feels botanical and captures the joy of being outdoors.

Large cut-out metal type, arches, mirrors and a special palette for wall colours became signature brand elements that make every retail space feel uniquely beruru.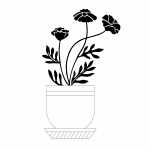 Inspired by the depiction of gardens and outdoor spaces in miniature art, isolated elements of foliage from various paintings were rendered in a contemporary style – and used sparingly to add a distinct charm.


Images that capture those daydreams about a place you would rather be in. A mood reminiscent of leisure spaces – a balcony or patio, verandah or garden – where a scenic view meets the luxury of time.