The Intersectionality Project
LAW / SOCIAL JUSTICE
Brand Identity
+

Editorial & Print

+

Illustration

+

Branding and communication for The Intersectionality Project - addressing discrimination at the intersections of caste, gender, sexuality, disability and other minorities through law.
Design / Illustration: Sagarika Bhatia, Aparna Ranjan
Client: Centre of Law and Policy Research
The experience of marginality and exclusion is complex and multi-layered. The illustrations explored organic, overlapping forms to convey ideas of community, growth and change – representing new equality legislation and the impact it can have.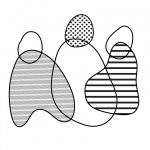 In India, caste status, gender, sexual minority identity and disability combine to result in aggravated forms of discrimination that existing laws fail to adequately recognise and respond to. CLPR's Intersectionality Project conducts litigation, research and advocacy to address the complexity of intersectional discrimination through law reform.